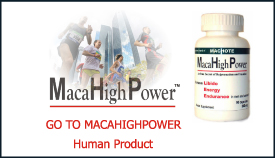 Maca High Power LLC

Phone Contacts
Perú: + 51 (1) 254-8931 / 996-51816
Email:
maggie@macahorse.com
Copyright © 2004-2007. MacaHorsePower.com, All Rights Reserved.
Reproduction of the material found herein in any form is strictly prohibited without prior written consent.

horse supplement, maca and horses, maca for horses, horses and maca, peruvian maca for horses, maca root for horses, equine maca, maca cheval, maca pour cheval, pferd maca, maca pferd, horse performance, endurance maca, endurance horse supplement, Horse strenght, horse strength, maca for racehorses, horses and maca, horse maca, new supplement for horses, natural, pplement for horses, natural supplement for horses, organic supplement for horses, organic maca for horses, organic horse, horse joint supplement

Pferd maca, Pferd, Equine maca, Endurance maca, Endurance horse, Maca, Uña de gato, Achote, Resistencia, Enduro, Suplemento, Energizante para caballos, Energizante natural para caballos, Energizante natural, Reproducción equina, Desinflamante natural, Salto ecuestre, Adiestramiento ecuestre, Doma ecuestre, Fertilidad equina, Prueba completa, Rejuvenating power, Maca horse power, Maca hi, Estimulador hormonal, Reproducción equina, Fertilidad equina, Rejuven

Increased running power, sluggish horses, revitalize, horse reproduction stamina, libido, reproduction, horse sperm count, herbal horse supplement, horse ulcers, endurance supplement for horses, horse weight gain, eventing horse supplement, weak horse, mare heat, hormone regulator for horses, heat regulator for mares, extra strength horse supplement, ulceras en caballos, weight gain foals, foal growth, bone strength, sperm count, cheap supplement for horses, best supplement, peru maca, peru supplement, peru horse supplement, power supplement, natural powder, endurance powder, new maca powder, new maca product, maca horse products, maca product, performance horse, performance supplement for horses, supplement for performance, maca performance, new performance, high energy supplement, high spirited horses, products for stress, horses with stress, jumping horse supplement, tired horse supplement, Maca for athletes, maca for stallions, increases sperm count, horsepower, horse energy, horse health, Better strength for horses, natural remedies for horses, natural horse supplements, distance horse health, horse sport, sport horse, performance, increased performance, increase energy, more energy, more concentration, concentration, breeding, ulcers in horses, easy keeper, better appetite, stimulates, stimulator, stimulate hormonal systems, improve concentration, athletic horses, horse athletes.